Photo and video presentation
Since 2013 we also concentrate on mutltimedia representations.
As an online portal we decided to update our objects medially in a 2-year-rhythym. This is aimed at providing an up-to-date quality at any time in the world wide web. Our data base is completely checked permanently and with the help of a professional photographerhigh-qualitative photos and videos can be taken.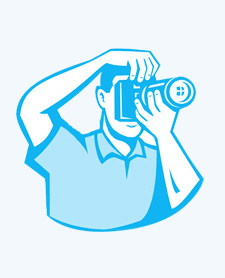 How is the object to be prepared for the photo appointment?:
Keep in mind: The photo/video appointment can only be realised if your object is prepared in a proper way.
Please take the following hints into account:
Bedrooms and guest rooms:
Photos on the walls, onto side boards, in shelves etc... have to be removed.
General condition of the room: the less items there are in the room(s) the better, f.e. newspapers, books and stuffed toys.
Any items are also to be removed from underneath the beds and behind wardrobes.
The bed: please avoid flashy colours. A one-coloured bedlinen is recommended.
Kitchen:
All work surfaces (oven, sink, etc.) are to be cleaned.
Pans, pots and dishes are to be cleaned as well and have to be unsable when the guests arrive. Cleaning powders have to be provided, too.
The general condition has to be clean.
Bathroom:
Sanitary articles and other items have to be removed from all surfaces.
Hanging or stapled one-coloured towels are recommended.
Corridor:
Shoes, outdoor clothes and other items have to be removed.
Balcony/terrace
A clean and tidy condition is recommended. Do not hang up items like irons or dryers.
It takes 30 – 50 minutes to take the photos or to record the video. The complete photo/video data is protected by copyright. The usage and take over of the photo/video data is prohibited for personal use.
So far the photo/video appointment is free of charge. In case your object is not in the recommended condition, the photographer will not take any photos nor record any videos. If you intend to show your object to the photographer a second time CONZEPTplus OHG will take a fee for that.
print page