Booking Apartments in Hannover & Hannover Region
Longterm rentals: nights - weeks - months
220 furnished apartments & rooms online
Full object information
More than 2600 guests in 2022
Partnerships with travel agencies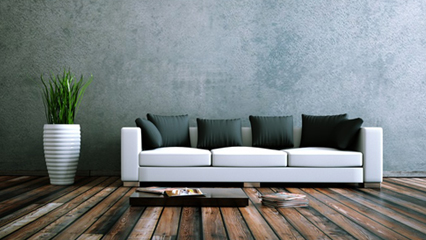 You only see available apartments
CONZEPTplus Warranties

Free cancelations are partly possible until 7 days
before arrival
Fast booking procedures

Types of Payment

Bank transaction, credit card payment, Paypal

Raiting

Until now 1.366 proper guest feedbacks of different rating criterias were submitted
Early bird discount

We offer an early bird discount
up to 10% for bookings made
3 months before arrival

Airport shuttle service

An airport shuttle can be booked additionally in advance

No hidden costs

Price warranty - no additional costs
Various objects including internet
Bed linen and towels included
Our recommendations

ID: 5963
House
Hannover, Mittelfeld|137 м²
A homelike detached private house in Hannover Mittelfeld available. Sleeping facilities: one twin room with two rooms, one room with a sofa bed and...

ID: 6593
3 room apartment
Laatzen, Rethen|90 м²
Distance to the exhibition: 4 km
Very modernly furnished 3 room apartment in Rethen available. The apartment is located on the first floor. Its total living surface is 90 sqm....

ID: 6629
3 room apartment
Hannover, Ricklingen|80 м²
On the 1st floor of our family house we offer you right 1 bedroom with a living room. The living room has u. a. over a couch and a TV, as well as an...

ID: 6677
1 room apartment
Barsinghausen|36 м²
Distance to the exhibition: 24 km
Feel free to enjoy your stay in the apartment near Bullerbach in the comfortably and fully furnished vacational home. This apartment is a no-smoking...
video presentation of selected objects for the upcoming exhibition
Upcoming exhibitions
Connected to 16 booking portals
To all our landlords who offer their houses/apartments via CONZEPTplus is now given the chance to increase the amount of bookings by displaying their listing(s) also on 15 other well-respected online booking portals.
Multi-integration made easy – Hosts simply need to look after their rates, occupancies, existing bookings and keep the equipment features up to date in their user account. All adaptations will be updated automatically and synchronized with all other portals in real-time.
Mirroring your property on all other portals by CONZEPTplus will save you a lot of time and effort.
Do not hesitate any longer and contact us immediately on +4951171259590 if you are interested in more information about how to rent out your property more efficiently.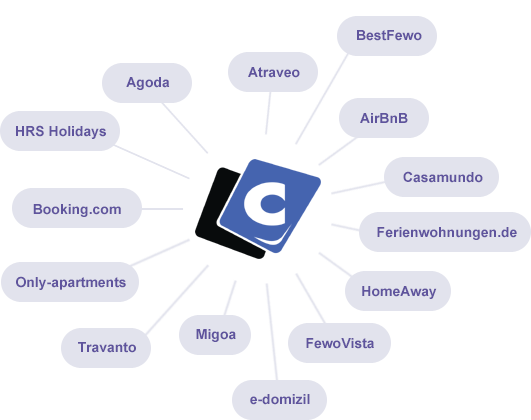 Welcome to the exhibition city Hanover!
Looking for an accommodation directly in Hannover?
No problem. CONZEPTplus provides a wide variety of accommodations for you. Whether you are looking for an apartment for a short stay or a fair accommodation during the international trade fairs, CONZEPTplus offers something suitable for each guest type. Private apartments as accommodations are a good alternative to hotels because you feel more like at home as in a hotel room. In addition, each private apartment has its own charm and can be inspiring for your own home decoration.
Moreover, CONZEPTplus offers plenty of private rooms for all guests whose budget is slightly smaller and who do not mind other people living inside the apartments.
You are traveling in a large group or you are looking for a large group accommodation in Hannover?
Do not hesitate to book one of CONZEPTplus' private houses.
Our houses are spread all over the city and are equipped with all necessary comforts for an unforgettable stay in Hannover.
What makes Hannover as a travel destination so attractive? Useful knowledge & attractions:
Hannover is located in the heart of Lower Saxony and it is also its capital.
The city with about half a million inhabitants was particularly known for the exhibition EXPO 2000 taking place in the year 2000. This World Expo was hosted on the exhibition ground that is still the third largest in Europe, and therefore it was a complete success. At Hannover's fair grounds (Messegelände Hannover), national and international trade fairs are arranged throughout the year. Among the most popular international fairs are for example the industrial fair Hannover (HMI), CeBIT, LIGNA, EuroBLECH, EuroTier, DOMOTEX, Agritechnica, CeMAT etc. In addition, the conference and congress halls are used by large companies for annual events, conferences and far more.
Besides the large exhibition ground which is especially for business travelers a primary attraction Hannover has much more to offer:
For joggers and hikers there is Germany's largest city park, the Eilenriede. Countless paths lead through this forest like green area. At some sideways you also find small cafes or kiosks to highlight the trip into the green or your own picnic with an ice-cream.
If you are a garden lover, do not miss a visit to the Royal Gardens (Herrenhäuser Gärten) . The whole area is part of Europe's most imposing garden art and moreover it invites you each year for a special event called Das kleine Fest im großen Garten which is always sold out weeks in advance. Just recently the castle Herrenhausen (Schloss Herrenhausen) was inaugurated which is also used as a conference and event venue. Besides the Herrenhäuser Gärten (Royal Gardens) there is another wide spread green garden area (Georgengarten) where especially in summer many Hanoverians go to for walking, picnics, barbecue and sports.
Close to the castle there is another attraction, which is Sea Life Hannover. A trip there is particularly recommendable for families to explore the interesting underwater world with their children.
The Maschsee is probably among the best known tourist attractions in Hannover. This lake had been created artificially before the Second World War and attracts visitors not only for short walks around the water but also for pedaling, canoeing and sailing lessons or to relax in the cafes (SeeBiergarten) and restaurants located on the waterfront. From late July to mid August each year the largest North German lake festival which is called Maschseefest takes place here with over half a million visitors. In addition, during hot times you can spend your day by cooling you off in the Ricklinger Teiche (Ponds) nearby.
A trip to Hannover's Old Town is also recommendable. This city district with timber-framed buildings and picturesque alleys is particularly popular during Christmas because of the huge Christmas market that shares the area around the market church with a lively medieval market. In summer, an annual and very popular beer festival entered into the event calendar recently. Moreover thousands of Hanoverians gather around the market church for a collective creative breakfast once a year.
Furthermore, museums are also located in Hannover. The expositions can be visited free of charge every Friday and for pupils, students and pensioners there are of course discounts on the regular entry fees. An insider tip is a visit to the Sprengel Museum which always puts its focus on modern art. Apart from the Sprengel Museum you should visit the Historical Museum in the old town or the Wilhelm-Busch-Museum if you are a fan of fairy tales.
And indeed, Hannover has some good venues for music fans as the Swiss Life Hall for concerts of larger dimensions and the Preussag Arena on the fairgrounds for music events as well as comedian performances.
Movie fans should visit the Seh-Fest Hannover (visual feast) at the Gilde Parkbühne in summer. The area of the Seh-Fest resembles an outdoor cinema at which you can decide whether to enjoy the film experience on a tribune, on chairs or by lying in the grass under a wind sheltered shell. For those who prefer cinemas there is also the Cinemaxx showing current movies and as well there is a cinema for more cultural films next door. And for those who fancy a more alternative environment there is the Apollo cinema in Hannover Linden.
Not far away from the Gilde Parkbühne the Schützenplatz Hannover is located. Several annual events such as the Schützenfest Hannover or an Oktoberfest take place here. Alongside countless fairground rides please take the opportunity to get to know a tasty beverage that is only available in Hannover. If you want to try it please look out for a "Lüttje Lage" sale.
Even as a football fan you are right in Hannover. Buy a ticket for the Hanover stadium and reward yourself with a football game with the famous football team Hannover 96. For ice hockey fans it is worth to see a Hannover Scorpions game in their stadium.
You are more of a high cultural person? Then do not hesitate and make your reservation today for a ticket of the Hannover State Opera or visit small high cultural venues such as the municipal theatre (Stadttheater), Theater am Aegi or the GOP.
In the meantime Hannover has even introduced a two-storey tourist bus which is working according to a hop on hop off system several hours a day. You may just feel like in London and explore the city by relaxing in the tour bus.
The unlimited landscape of cafes, bars and restaurants in Hanover will make your stay culinary unforgettable. In addition to conventional restaurants of different countries of origin Hannover hosts two Skybeaches (360° view) with a beautiful view over the city. For all gourmets who would like to go through an exceptional dining experience there is a variety of theme restaurants where for example you sit inside an airplane as a dining room (Restaurant Silbervogel) or you can feel like being set back in the medieval Ages (Restaurant Excalibur).
Transport in Hannover:
Hannover's network of public transportation is one of the best in Germany because you can reach all the important destinations of the city by either bus or by city tram (a mixture of metro and tram). There is also an extensive suburban train system which helps you to get to all the areas around Hannover. The airport Hannover-Langenhagen operates as the central airport in this region. The city's central station is targeted as destination by almost all trains in Germany and is also regarded as a connection point to the next surrounding cities like Braunschweig and the university town Hildesheim.